Blood and a Windmill
is a
Boss Challenge
that is part of the
Two Brothers, One Bastard
storyline.
---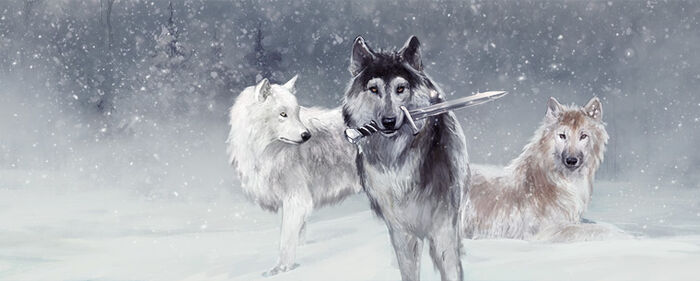 Gammer hears noises coming from a windmill. She follows her nose to the lame wolf and his companions, hiding from the rain.
Characters
Rewards
Initiation
Prize
Coin
200 - 300
Participation
Prize
Coin
100 - 200
Ranking
| | |
| --- | --- |
| 1st Place | |
| 2nd Place | |
| 3rd Place | |
Challenge
Part 1: The Storm
Lightning crackles overhead. The biggest of the wolves paces nervously. "Hodor..." He is louder with every thunderclap.
Try as she might, Gammer cannot make Hodor quiet. She can hear the growling of the wolves outside.
Part 2: The Crow
The wildings have a man cornered, his neck bared to the white wolf. The white wolf pounces...and bites a wilding instead!
Even with Gammer's help, the white wolf is outnumbered. How will he survive?
Part 3: The Warg
Gammer turns and sees Summer, Bran Stark's direwolf. She blinks, and it is Bran himself, running to defend his bastard brother.
| | | |
| --- | --- | --- |
| Aid | Spy | Bribe |
| Join Bran and Jon | Chase Off Wildings | Call Other Wolves |
The wilding wolves lie dead or whining in the mud. Will Jon Snow escape?
Result
The white wolf disappears, leaving only a few wildlings alive. Gammer blinks, and Bran is the lame wolf again, up in the windmill.

Required Points: 53,550
Ad blocker interference detected!
Wikia is a free-to-use site that makes money from advertising. We have a modified experience for viewers using ad blockers

Wikia is not accessible if you've made further modifications. Remove the custom ad blocker rule(s) and the page will load as expected.