Blood and Heraldry
is a
Boss Challenge
that is part of the
A Matter for Nobles
storyline.
---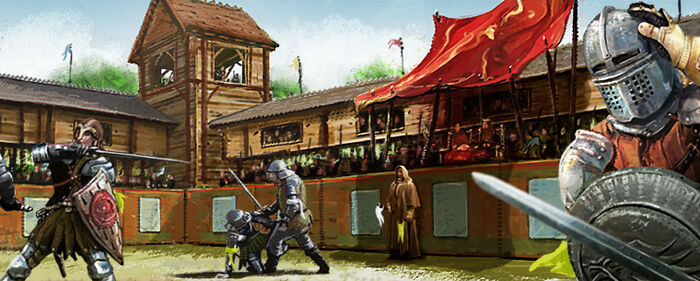 "Let's see what your honor's worth, sapling!" Lord Hargest jeers at you. Your sworn sword steps forward to meet his.
Characters
Rewards
Initiation
Prize
Coin
200 - 300
Participation
Prize
Coin
100 - 200
Ranking
| | |
| --- | --- |
| 1st Place | |
| 2nd Place | |
| 3rd Place | |
Challenge
Part 1: First Round
Bryce Chanden, Lord Hargest's champion, steps forward, resplendent, in his gleaming half-plate armor. [Your Sworn Sword] is ready.
Bryce Chanden is still a threat, but he appears nervous. This shouldn't be taking so long.
Part 2: Second Round
Bryce Chanden is out of breath, but relatively unharmed. [Your Sworn Sword] is injured, but still very much in the fight.
Bryce Chanden throws away his damaged sword, and picks up his warhammer. [Your Sword Sword] takes up a halberd...
Part 3: Third Round
Bryce Chanden drops his warhammer, and dons a greatflail. [Your Sworn Sword] switches to the warhammer.
Bryce's strikes found no purchase, and he is worn out and reeling. [Your Sworn Sword] moves in for the kill.
Result
Bryce Chanden's ruined breastplate drops away, revealing a grotesque chest wound. Your sworn sword administers the mercy blow.

Required Points: 90,900
Ad blocker interference detected!
Wikia is a free-to-use site that makes money from advertising. We have a modified experience for viewers using ad blockers

Wikia is not accessible if you've made further modifications. Remove the custom ad blocker rule(s) and the page will load as expected.