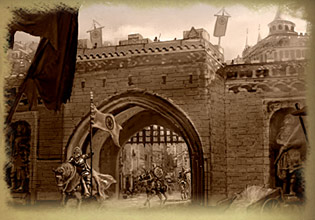 Blades in the Shadows
Waiting, watching, preparing... When your enemies move in shadows, remain vigilant. When the blades finally come, you will be ready to knock them aside.
Goals
Bonus Goals
Reach level 60
Produce 150 rare weapons, items, or units
Upgrade your fealty building 20 times
Rewards

Bonus
Uncommon Red Gem
All Quests
Required Quests
These quests must be completed to progress to the next Chapter.
Main Questline
Neighbouring Nobles Questline

While you defend your lands, distant events threaten peace throughout the Seven Kingdoms.
Ad blocker interference detected!
Wikia is a free-to-use site that makes money from advertising. We have a modified experience for viewers using ad blockers

Wikia is not accessible if you've made further modifications. Remove the custom ad blocker rule(s) and the page will load as expected.