Mutiny at Craster's Keep
is a
Boss Challenge
that is part of the
Unwelcome Guests
storyline.
---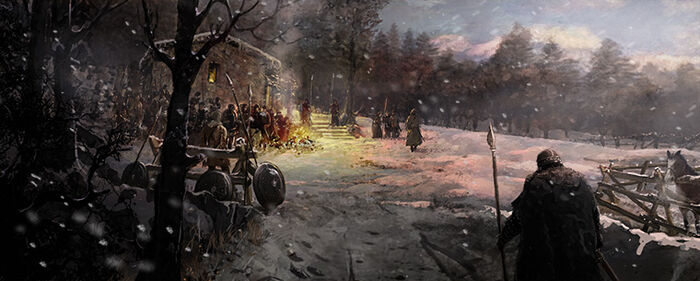 Lord Mormont surveys the tattered yard surrounding Craster's Keep. "Work for your bread," he tells the men.
Characters
Rewards
Initiation
Prize
Coin
200 - 300
Participation
Prize
Coin
100 - 200
Ranking
| | |
| --- | --- |
| 1st Place | |
| 2nd Place | |
| 3rd Place | |
Challenge
Part 1: Splitting Logs
A large pile of logs sits on the edge of the forest, waiting to be split for firewood. Rolfe looks for an axe...
With firewood gathered, the crows turn their attention to the animals wandering Craster's yard.
Part 2: Herding Sheep
Thin, dirty sheep wander around the yard , some on the edge of the woods themselves. The crows grumble about catching them...
The sheep, filthy as they are, have been corralled. There is still a mess inside their pen.
Part 3: Cleaning Slop
Forgotten piles of excrement, food and mud fill the sheep's pen. A few crows balk, but the rest roll up their sleeves.
The crows are now filthy, but the sheep and their pen are clean. Will it be enough for Craster?
Result

Required Points: 19,800
Ad blocker interference detected!
Wikia is a free-to-use site that makes money from advertising. We have a modified experience for viewers using ad blockers

Wikia is not accessible if you've made further modifications. Remove the custom ad blocker rule(s) and the page will load as expected.