Were you looking for the Vol II storyline?

Back from the Dead (Vol You)


Back from the Dead (Vol You)
is a
City Quest
that is part of the
Evening the Score
storyline.
---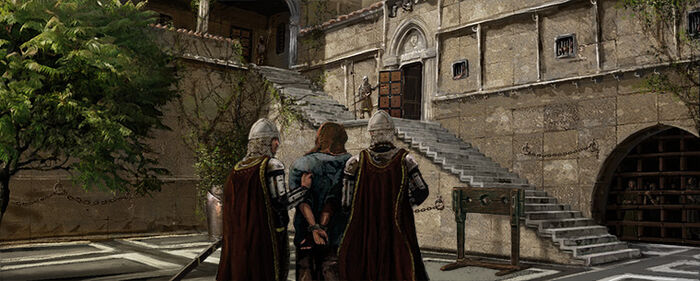 Story
Back from the Dead (Vol You)
"We've been slaving in these parts for many years... the Lady used to move folk through this very castle, 'fore you came and run her out."
Characters
Rewards

+100-250
Options
Sworn Sword Actions
None
Results

The slaver looks relieved. "Thank you, [m'lady/m'lord]."


"That's all I know, I swear!" the slaver cries. But the guards drag him out of the great hall, still pleading.
Ad blocker interference detected!
Wikia is a free-to-use site that makes money from advertising. We have a modified experience for viewers using ad blockers

Wikia is not accessible if you've made further modifications. Remove the custom ad blocker rule(s) and the page will load as expected.