Babes in the Woods
is a
City Quest
that is part of the
Crows at a Crossroad
storyline.
---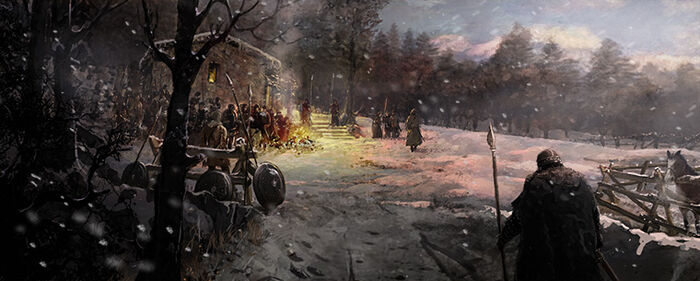 Story
Babes in the Woods
The next day, Rolfe is passing by the hut when he hears Gilly whisper to him. "Crow." She peers out the door. "You tell Sam...stay away."
Characters
Rewards

+100-250
Options
Sworn Sword Actions
None
Results

Rolfe frowns, coming close. "And right he should. You'll both get all killed." Gilly looks away. "I told him, didn't I? But he still comes..."


Rolfe looks around before whispering. "You should listen to Sam. He's a good lad. He'll take care of you." Gilly looks away. "I don't need him."

Rolfe nods. "I'll tell him." Gilly nods back, but looks worried as she closes the hut door.
Ad blocker interference detected!
Wikia is a free-to-use site that makes money from advertising. We have a modified experience for viewers using ad blockers

Wikia is not accessible if you've made further modifications. Remove the custom ad blocker rule(s) and the page will load as expected.