An Overwhelming Force
is a
Boss Challenge
that is part of the
House Vandrake
storyline.
---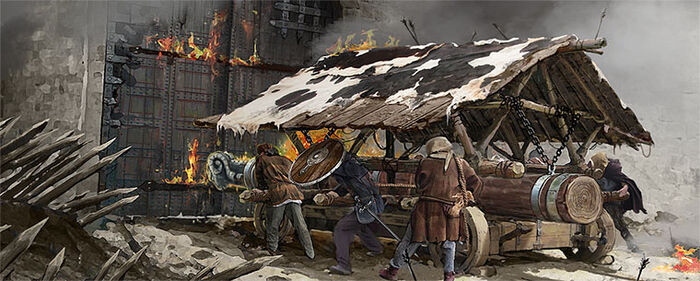 "House Vandrake is vulnerable," Nyall tells the Nameless. "We'll hit them with overwhelming force and take their castle!"
Characters
Rewards
Initiation
Prize
Coin
200 - 300
Participation
Prize
Coin
100 - 200
Ranking
| | |
| --- | --- |
| 1st Place | |
| 2nd Place | |
| 3rd Place | |
Challenge
Part 1: Castle Gates
You march by night, to arrive at House Vandrake's castle at dawn. "Take the gates!" Nyall commands.
The gates open and House Vandrake's few defenders come gamely out to fight the hordes of Nameless.
Part 2: Battle
The defenders attack desperately, trying to drive back the Nameless, who are ten times their number. "Kill them!" Nyall commands.
In a flurry of steel, House Vandrake's defenders are dead or fled. Nyall pushes into the castle!
Part 3: Inside
"Secure the walls," Nyall orders most of his men. "I will accept Lord Vandrake's fealty." You join him as he enters the castle.
Nyall corners Lord Vandrake. "I am your rightful lord. Kneel before me."
Result
Lord Vandrake shakily kneels before a triumphant Nyall. "I give you my fealty, lord [Your Fealty]," he reluctantly swears.

Required Points: 65,400
Ad blocker interference detected!
Wikia is a free-to-use site that makes money from advertising. We have a modified experience for viewers using ad blockers

Wikia is not accessible if you've made further modifications. Remove the custom ad blocker rule(s) and the page will load as expected.