An Odd Pair
is a
Boss Challenge
that is part of the
A Friend of the Watch
storyline.
---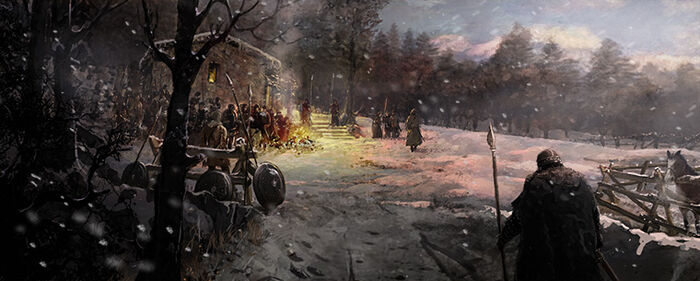 Rewards
Initiation
Prize
Coin
200 - 300
Participation
Prize
Coin
100 - 200
Ranking
| | |
| --- | --- |
| 1st Place | |
| 2nd Place | |
| 3rd Place | |
Challenge
Part 1: Hide
Sam and Gilly are approaching Derryk. "I can't let them see me," he whispers to himself, looking around for a way to hide.
| | | |
| --- | --- | --- |
| Harass | Spy | Bribe |
| Spook Chickens | Cover Self with Snow | Pay Wife to Distract |
Sam and Gilly pass Derryk by, wholly absorbed in quiet conversation. Derryk is now free to follow them.
Part 2: Follow
Sam and Gilly continue walking. "I must follow them," Derryk whispers to himself. "But what's the best path?"
Derryk follows Sam and Gilly to the fence. They begin talking loud enough for Derryk to overhear. He listens.
Part 3: Listen
As Sam and Gilly talk, Derryk notices a crow wandering nearby. "If he discovers them, we're all in trouble," he says to himself.
The crow returns to the keep without discovering Sam or Gilly. Derryk is free to continue eavesdropping.
Result

Required Points: 9,000
Ad blocker interference detected!
Wikia is a free-to-use site that makes money from advertising. We have a modified experience for viewers using ad blockers

Wikia is not accessible if you've made further modifications. Remove the custom ad blocker rule(s) and the page will load as expected.