All the Pretty Words
is a
Boss Challenge
that is part of the
Voice of the People
storyline.
---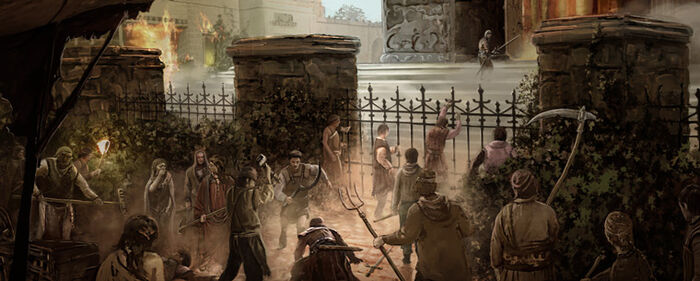 A crowd has formed outside of the tavern.  As you and Jayne try to reach Hawkhaven, the Turner smallfolk grow hostile...
Rewards
Initiation
Prize
Coin
200 - 300
Participation
Prize
Coin
100 - 200
Ranking
| | |
| --- | --- |
| 1st Place | |
| 2nd Place | |
| 3rd Place | |
Challenge
Part 1: The Mob
Cries of "Justice!" and "Find them!" rise high above the crowd. Can [your Sworn Sword] do anything to calm them?
[Your Sworn Sword] calms some of the smallfolk, but not all. The Turner guards struggle to hold them back...
Part 2: The Guard
The Turner guards have formed a wall of spears around you and your daughter. Can [your Sworn Sword] help them stem the tide?
The mob has dwindled, but those remaining are angrier than ever...
Part 3: Fight
The gates of Hawkhaven are within sight. If [Your Sworn Sword] can get you and Jayne inside, you'll be safe from the mob...
The Turner guards do their best to hold off the mob long enough for you and Jayne to get inside...
Result
The path to Hawkhaven is clear. You and Jayne run inside the gates just as your escort breaks under the pressure of the crowd.

Required Points: 50,400
Ad blocker interference detected!
Wikia is a free-to-use site that makes money from advertising. We have a modified experience for viewers using ad blockers

Wikia is not accessible if you've made further modifications. Remove the custom ad blocker rule(s) and the page will load as expected.