All Men Must Die
is a
Boss Challenge
that is part of the
Avenging the Wolf
storyline.
---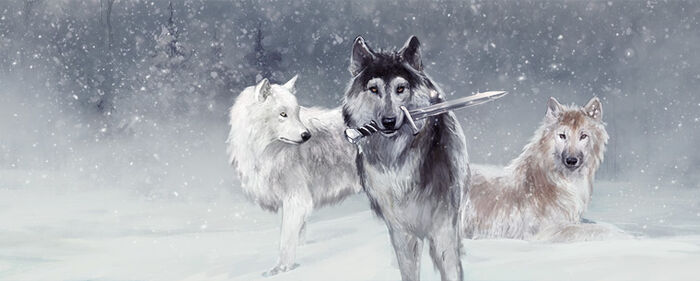 The flames die down, offering an escape. Gammer follows and finds Arya Stark and the Hound, watching the Stark banner burn.
Characters
Rewards
Initiation
Prize
Coin
200 - 300
Participation
Prize
Coin
100 - 200
Ranking
| | |
| --- | --- |
| 1st Place | |
| 2nd Place | |
| 3rd Place | |
Challenge
Part 1: Family
A pack of brown wolves trot out a horrifying apparition--the body of the King in the North, with the head of a wolf sewn on.
Gammer, Arya, and the Hound find themselves surrounded by snarling Frey and Bolton wolves. They must escape...
Part 2: Duty
As Gammer, Arya and the Hound flee the Twins, the Frey and Bolton wolves fall upon the Stark and Tully forces outside.
Gammer looks back at the Twins, a field of fire and blood and mournful howls. The wolf with the sword urges her on.
Part 3: Honor
Dawn breaks. Gammer follows Arya and the Hound until they come across a pack of Freys. Arya stalks them, sword in her mouth.
The wolf with the sword stares down a lone Frey. She leaps through the air...
Result
The Frey wolf yelps once as Arya Stark's blade sinks through his flesh. She looks up, mouth dripping with blood. Gammer runs.

Required Points: 60,300
Ad blocker interference detected!
Wikia is a free-to-use site that makes money from advertising. We have a modified experience for viewers using ad blockers

Wikia is not accessible if you've made further modifications. Remove the custom ad blocker rule(s) and the page will load as expected.