A Wolf in White
is a
City Quest
that is part of the
A Marriage of Opposites
storyline.
---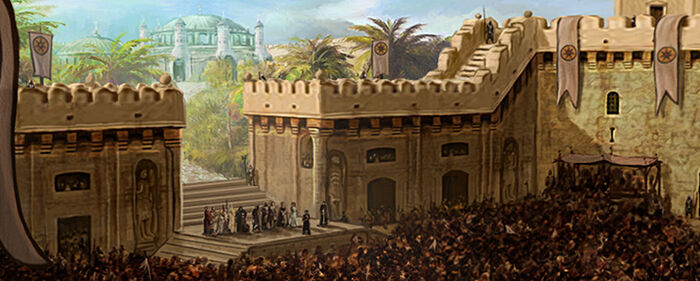 Story
A Wolf in White
It is Tyrion and Sansa's wedding day. Sansa emerges from her room to be escorted to the Great Sept. She looks like she has been crying.
Characters
Rewards

+100-250
Options
Sworn Sword Actions
None
Results

"Your father would be proud, my lady," Ser Hugo whispers. Sansa offers him a small smile and walks forward.


"Courage, my lady," Ser Hugo whispers. "You're bigger than him." Sansa lifts a hand to cover her smile and walks forward.


Ser Hugo clears his throat. "At your pleasure, my lady." Sansa nods, lifting her head and walking forward.
Ad blocker interference detected!
Wikia is a free-to-use site that makes money from advertising. We have a modified experience for viewers using ad blockers

Wikia is not accessible if you've made further modifications. Remove the custom ad blocker rule(s) and the page will load as expected.