A Pack of Wolves
is a
Boss Challenge
that is part of the
Seeing Beyond
storyline.
---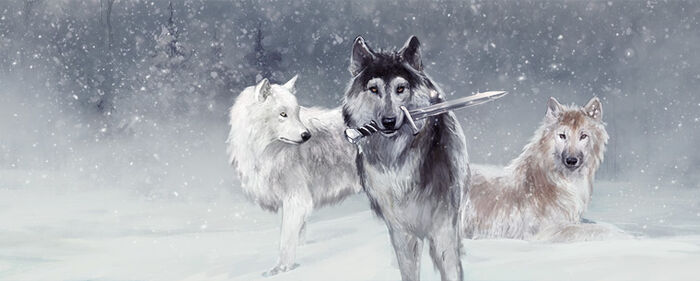 Gammer Wilde twists and turns in her bed. In her dreams she follows three wolves--a leader, a fighter, and a seer.
Rewards
Initiation
Prize
Coin
200 - 300
Participation
Prize
Coin
100 - 200
Ranking
| | |
| --- | --- |
| 1st Place | |
| 2nd Place | |
| 3rd Place | |
Challenge
Part 1: The Leader
One of the wolves wears a crown. He walks through a field of other dead wolves, and howls mournfully to the sky.
The wolf with the crown speaks. "These northmen died in my name. They will be avenged."
Part 2: The Fighter
The winds shift, and Gammer find herself in a forest. A small wolf runs with a pack, a thin blade in her mouth.
The small wolf drops her blade and shouts. "We need to be far from Harrenhal! Come on!"
Part 3: The Seer
The winds shift again, a different forest but no less dense. Gammer sees a lame wolf being carried by another wolf.
| | | |
| --- | --- | --- |
| Aid | Spy | Bribe |
| Help Carry Wolf | Backtrack Trail | Lower Head |
"Stop for a minute," the lame wolf says. The larger one nods and speaks. "Hodor."
Result
The air grows cold. Gammer thinks she can see another wolf in the distance, white against the snow. She follows it...

Required Points: 13,050
Ad blocker interference detected!
Wikia is a free-to-use site that makes money from advertising. We have a modified experience for viewers using ad blockers

Wikia is not accessible if you've made further modifications. Remove the custom ad blocker rule(s) and the page will load as expected.