A Mercy for Traitors
is a
Sworn Sword Quest
that is part of the
A Bannerman's Justice
storyline.
---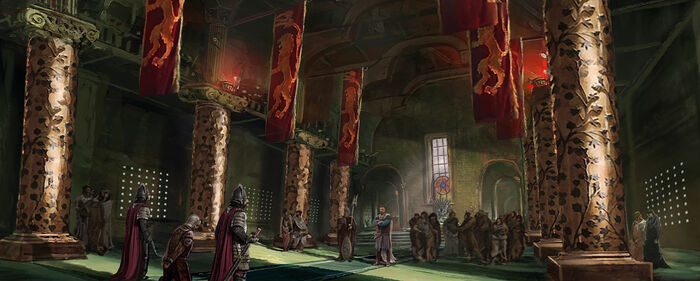 Story
A Mercy for Traitors
King Joffrey sits upon the Iron Throne, looking bored. Queen Cersei sits nearby, watching you without expression. "Speak," says the king.
Options
All Alignment Quests
Whichever option you select, the following
Sworn Sword Quest
will activate:
Actions
Success
"How delightful!" claps King Joffrey. "[Your Character], is it? I shall remember your gift fondly." He smiles as the steward ushers you away.
Failure
"How thoughtful of you," says King Joffrey, nodding mechanically. "Truly an unforgettable gift," he yawns. "Next!" cries the steward, ushering you away. (No Retry; +1 Wound)
Ad blocker interference detected!
Wikia is a free-to-use site that makes money from advertising. We have a modified experience for viewers using ad blockers

Wikia is not accessible if you've made further modifications. Remove the custom ad blocker rule(s) and the page will load as expected.