Were you looking for The Long Night?



A Long Night Ahead
is a
City Quest
that is part of the
Imp's Wedding
storyline.
---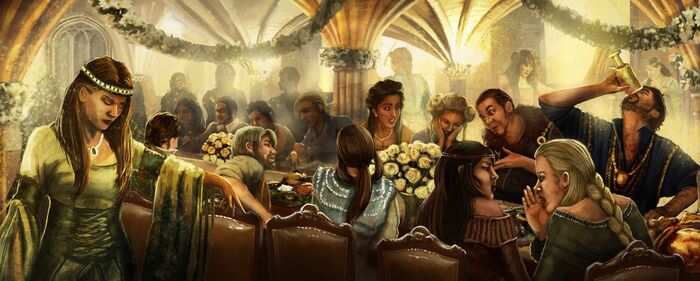 Story
A Long Night Ahead
At Tyrion and Sansa's wedding feast, the groom is nearly falling out of his chair with drink. The guests are enjoying themselves, but Sansa is quiet.
Characters
Rewards

+100-250
Options
Sworn Sword Actions
None
Results

Ser Hugo steps away for a moment and returns with a plate of lemon cakes. "My lady?" Sansa takes one, offering him a faint smile.


"Be cheered, lady," Ser Hugo says awkwardly. "I hear Lord Tyrion is quite... skilled, despite his stature--" Sansa rises from the table and walks away.


Ser Hugo stands near Sansa's chair with one hand on his sword, saying nothing. Sansa looks behind her at him once, and seems a little more at ease.
Ad blocker interference detected!
Wikia is a free-to-use site that makes money from advertising. We have a modified experience for viewers using ad blockers

Wikia is not accessible if you've made further modifications. Remove the custom ad blocker rule(s) and the page will load as expected.